How to activate and configurate elastic vCores and RAM on my Cloud server with SWPanel
Elastic vCores and RAM are those that allow them to be expanded without restarting your Cloud.
Activating elasticity will allow you to increase or decrease the vCores and GBytes of RAM of your Cloud without having to restart it, the changes are applied immediately and are available to be used immediately.
How to activate elastic vCores and RAM
First of all, you must go to the Dashboard of the server where you want to activate this feature: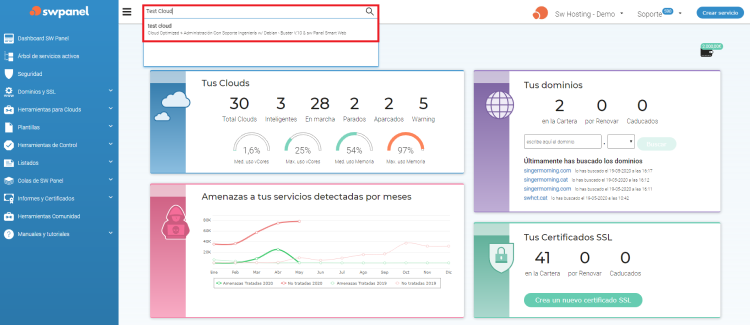 Remember that you can use the search engine to find the server faster
Once in the Dashboard of your cloud, go to the section "Available improvements" -> "IaaS Resources"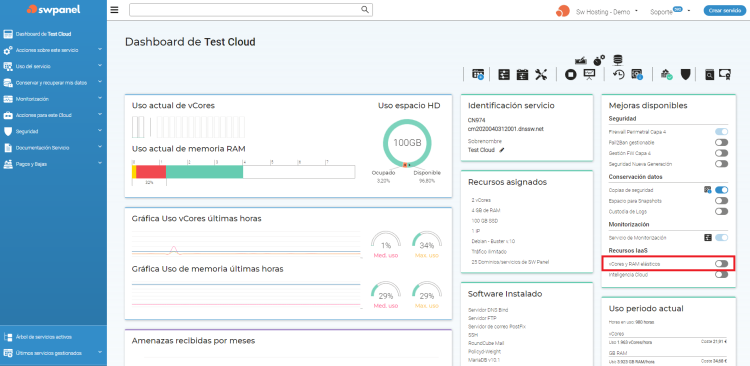 Then click on elastic vCores and RAM and a screen will open where you must check the option to activate vCores and Elastic Memory.

In the next window you must formalize the payment:

After completing the payment, you will see that a small amount of RAM has been reserved. This amount of RAM is used to prevent the server from restarting when making a change in its resources. In addition, you will find a small button on the Dashboard of your server that will allow you to customize the resources of the server: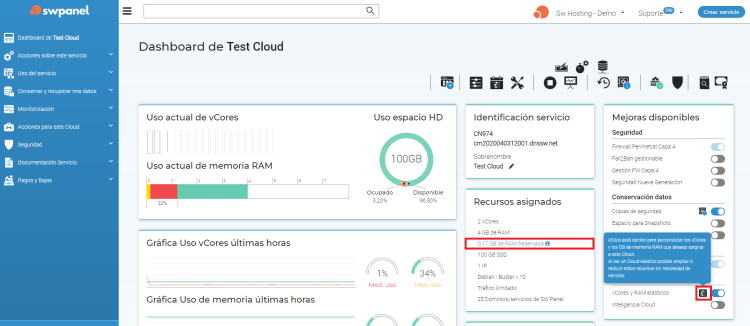 Customize server resources
Once the elastic vCores and RAM are activated, you can modify their values as follows:
Go to the Dashboard of the server

Click on the icon in the section on elastic vCores and RAM:

Next, a window will open in which you can select the amount of RAM and vCores needed for your Cloud:

To continue, you must click "Next"

Then, a window will be shown in which you will be informed of the resources that are going to change:

In addition, you can choose if you want to apply the changes immediately or if you want to plan the change of resources.

To finish, you must accept and formalize the changes.
In a few minutes you will have the customization applied.