How to install Let's Encrypt SSL certificate with SW Panel
Let's Encrypt1 is a certificate authority launched on April 12, 2016 that provides free X.509 certificates for Transport Layer Security (TLS) encryption through an automated process designed to eliminate complex current process of manual creation, validation, signing, installation and renewal of certificates for secure websites.
What are the requirements to install a Let's Encrypt certificate in SW Panel?
SW Panel allows you to install a Let's Encrypt certificate on your web page, as long as the following condition is met:
Have a Cloud with the Debian 10 Operating System and SW Panel as a management panel.
How do I install a Let's Encrypt certificate?
To begin, you must have a Cloud with Debian 10 operating system, the procedure is as follows:
Having created a hosting service within the cloud.

Go to the Dashboard of the service in which you want to install the SSL certificate.

Go to the Available improvements section and select HTTPS with SSL certificate

A screen will appear in which you must choose the type of certificate you want to install, in this case, we select Let's Encrypt SSL, which has a cost of 0€.

To finish, click on Create SSL and activate HTTPS. Once this is done, we will have available the website with the SSL certificate installed.
The certificate installation gave me an error, what can I do?
The first thing is to identify the cause of this error, so that we are going to cite several problems that can occur when installing the certificate:
Verify that the domain and hosting / server point to SW Hosting
One of the requirements that Let's Encrypt has to be able to validate the certificate automatically is that both the domain hosting you want to certify and the domain point to SW Hosting. This means that you must have both services in your client file. In the event that neither the domain nor the hosting points to SW Hosting, the installation of the Let's Encrypt certificate will not be successful, resulting in an error.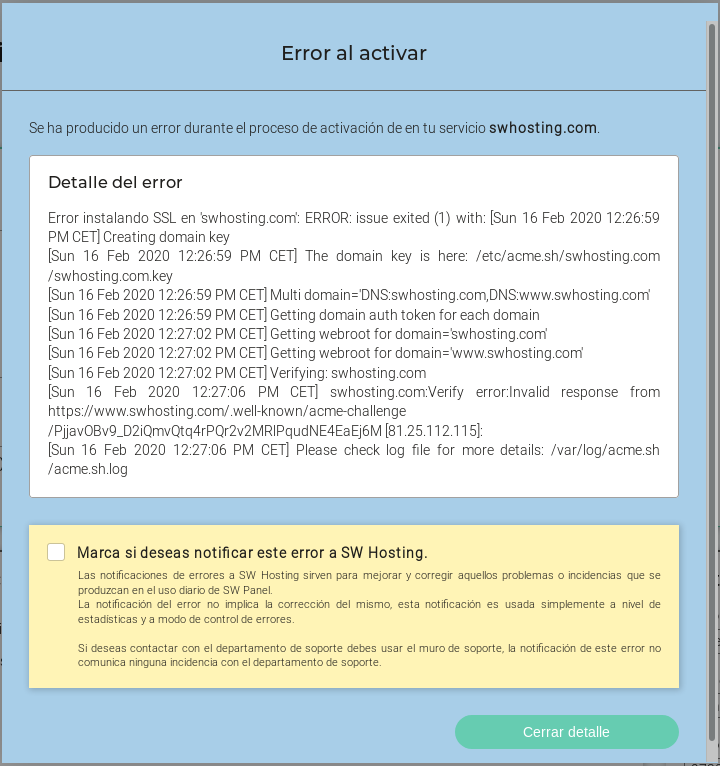 I have installed the certificate but the web is not shown as secure
Even if you have installed the SSL certificate correctly, your web page can continue to load through the HTTP protocol. This means that, if you do not indicate in your browser that you want to access the web by typing HTTPS, the content will not be displayed using the SSL certificate. In the event that you want your website to always display, and automatically, the content through SSL certificate and the HTTPS protocol, you can create a redirect in the .htaccess file of your website and, in this way, all requests will be displayed using SSL.
You can create the redirect to HTTPS using the following manual: