Configuring mail accounts on my Cloud server: Mail OSX
⚠️ These settings for mail accounts are only valid for Cloud servers with Linux Debian 10 or higher operating system versions. ⚠️
Configure the mail account in Mail OSX.
Mac mail configuration is a bit different from other configurations, so we will have to pay special attention to specific configuration details.
The data we must take into account for the mail account configuration are the following:
Incoming mail server **Outgoing mail server
Outgoing mail server** Account name.
Account name** Account name Password Password Password **Password
Access key** SMTP port: 58
SMTP port**: 587
IMAP port**: 143
POP3 port**: 110
Protocol**: SSL
***It is very important that we take into account this first detail: mail configurations on Mac cannot be done via TLS security protocol, but by SSL. This is the same security protocol, but it is not the one that has been standardized for mail servers. Even so, it is possible that Mac does not accept configurations with security protocols, so we will have to leave it disabled for some accounts.
Open the Mail application on your computer:
If this is the first time we configure an e-mail account on our computer, we will be prompted to select the type of account we want to configure.
Select "Other Mail account" and click on "Continue":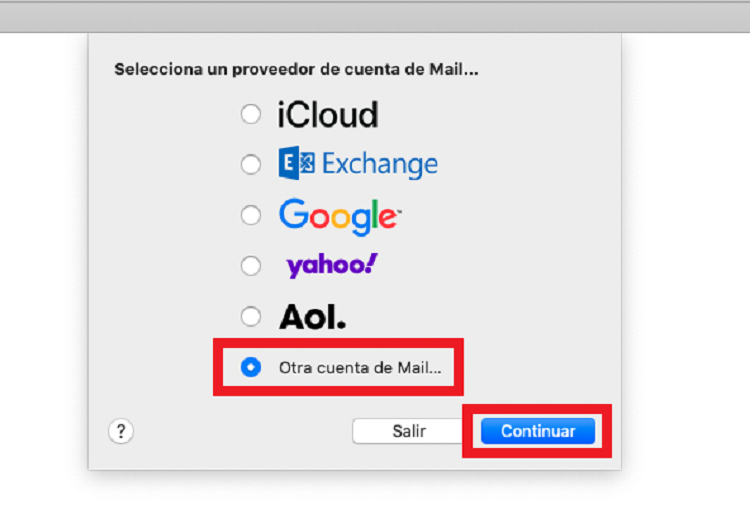 In case you have already configured an email account in the mail manager, you will have to access the mail configuration through the Mail tab. Open the drop-down menu and select "Add account":
For both cases, the wizard box for adding email accounts will open. We fill in the corresponding data: our name, email and password. When you are done, click on "Login":
***We remind you that from SWPanel you will not be able to see the information about the password of the email account, because in compliance with the ISO 27001, the LOPD and the RGPD, we do not store or provide personal passwords, and we do not have access to the passwords of email accounts, much less provide them.
As soon as we have clicked the button, the dialog box will become blank and the automatic configuration of the service will start.
It is possible that the system will automatically detect the settings and proceed to finalize the account creation process. At this point, we will select which elements we want to configure (mail and notes). Click on "Accept" and the configuration will be completed:
However, most commonly, the system does not recognize the incoming and outgoing incoming servers, so you will get an error message stating that "The name or password could not be verified" and you will have to enter the parameters manually.
In this step it is very important to note that in "Username" we should not put the user name as such, but the e-mail address.
Also, we will be able to select the incoming mail protocol, that is to say, if we want our account in IMAP or POP3:
As soon as the account configuration is completed manually, the account creation process will be finished. At this point, we will select which elements we want to configure (mail and notes). Click on "Accept" and the configuration will be completed:
Finally, we should see our account correctly configured:
During the configuration process, if you have configured your e-mail account with an SSL certificate, you may receive a message about the server identity verification. In this case, we accept the message by clicking on "Continue":
Consult another manual of interest:
Configure my Cloud server mail accounts](https://www.swhosting.com/en/comunidad/manual/configuracion-de-cuentas-de-correo-de-mi-servidor-cloud)