I found a bug in the SW Panel
What is a bug?
A bug, also known as software error, error or simply failure in computer slang. A bug then refers to a program that does not behave according to the intentions that it should meet, collapse or give errors.
Can a bug affect me?
A bug is generated in the programming or design of the software and, at some point, this is manifested to the user. Some common bugs can be: that does not finish loading the page (advice: verify before the Internet connection), reach an infinite loop or show some error page. It is possible that you have ever been involved in a bug.
Can there be bugs in the SW Panel?
Our Development Department works very hard to offer you the best in your SW Panel and to be as efficient as possible. However, there may always be loose ends, and it is possible that at some point, you may find one.
All right, I've found a bug. How do I report it?
Very easy. First, you must go to the Support tab, located in the upper right corner of your SW Panel and click on Free Support Wall.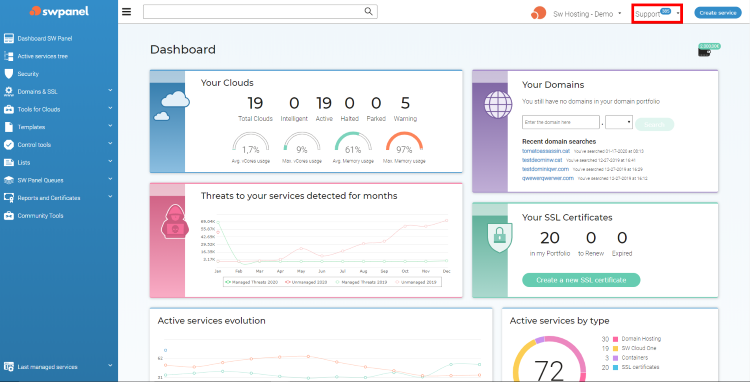 Once you visualize the box with the title -"How can we help you? Start a conversation with support"-, tell us the bug you found. The more specific you are at the time of writing it, the easier it will be to find and scale it. For example, the steps you have followed until you find the bug, and the browser you have used. Once indicated, click on Start conversation.
When you are told that no items have been found for your query, or do not correspond to what you have indicated, send us your report by clicking on Yes, start conversation.
Once your report arrives, we will then upload it to our R & D Department, where they will be responsible for resolving it as soon as possible.
Can I send improvement suggestions for the SW Panel through the Support Wall?
Of course. Follow the same procedure indicated above, commenting on your suggestion. We will take care of climbing it so that it ends up in good hands.