How to redirect my domain to WordPress
Once you have contracted and configured your website under WordPress hosting, you can use your domain to display the website served by WordPress. You can do it with these simple steps that we detail below:
Change DNS servers to WordPress servers
To maintain a domain in SW Hosting but point it to another service provider it is necessary to change the DNS name servers (or "hostnames") of the domain.
To do so, the first step will be to access the SW Panel. In the blue column on the left, access Domains and Certificates > Domain Portfolio:

Within the Domain Portfolio, you can see all the domains you have currently registered. To the right of each domain you will find the tab ···:

You must position yourself with the cursor over the ··· tab, and in the right column in Contacts and Hosts, you must select DNS Data: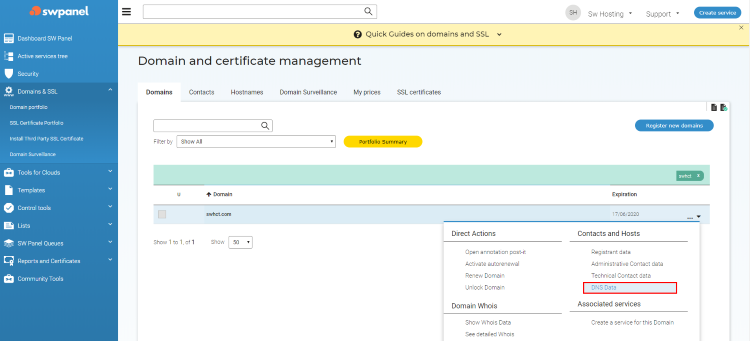 It will be opened a new tab where you will find the DNS name servers assigned to your domain. By default, you will have assigned the DNS that belong to SW Hosting. At this point you can modify them and enter the DNS of your other provider and finally click on the green button Change DNS.
In the specific case of WordPress, the DNS servers to be put are the following:
ns1.wordpress.com
ns2.wordpress.com
ns3.wordpress.com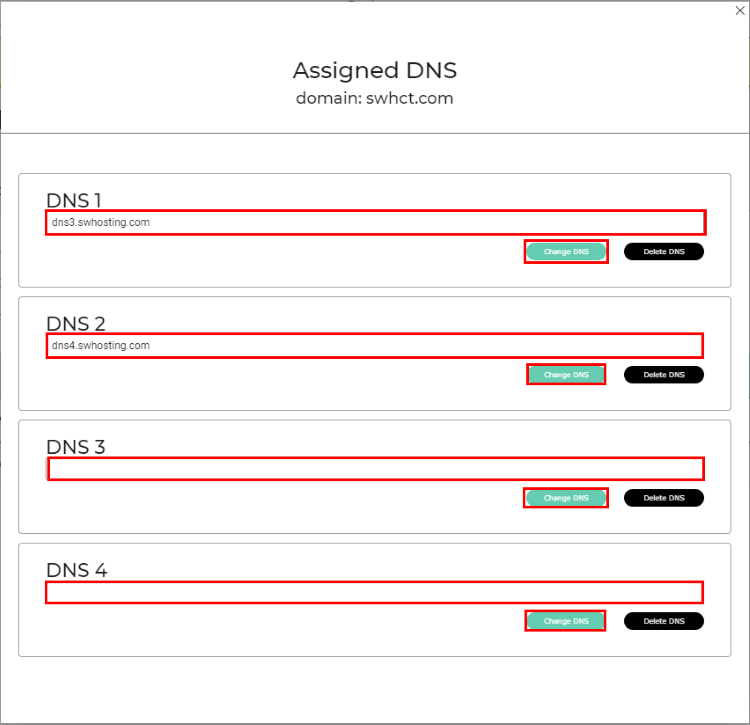 Information extracted from the official manual of the site wordpress.com (https://en.support.wordpress.com/domains/map-existing-domain/)
Finally, once you have entered the DNS records of your external provider, you must click on the checkbox I accept the responsibility and finally, on the green button to save the changes made.
We inform you that this change takes a while to spread, so it is not immediate, and that once made the change will be the servers of the other provider who will decide on your service (includes the website, email, etc.)