How to request the authcode of a domain
The authcode is the transfer code necessary to transfer your domain from one provider to another.
All domains, except .ES, require this code in order to be transferred.
To request the authcode, you must access your SW Panel and select "Domains and Certificates", located on the left side menu in blue -> Domain Portfolio
You must display the "Manage" tab that appears on the right of the domain that you want to request the authcode -> Request authcode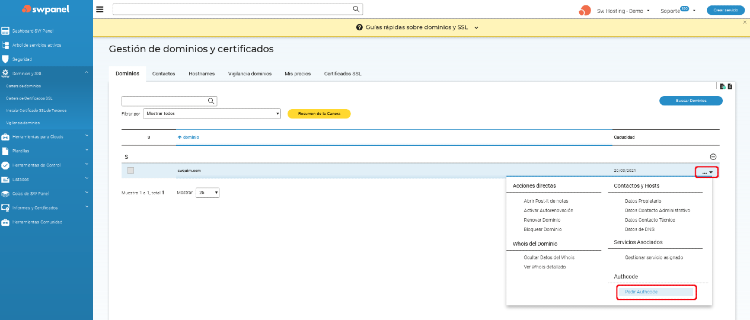 On the next screen, fill in the statistical data, indicate the name and ID of the person in charge for the application and click on "Request authcode"
Once requested, you will return to the main domain portfolio tab. To visualize the authcode, you must re-display the "Manage" tab on the right side of the domain -> See authcode
The authcode has a life of 15 days, after these days you must reapply. If in this period an invoice is generated, the authcode will no longer be valid, so you will have to ask for it again if you have not started transferring the domain yet.
Situations in which you can NOT request the authcode
If the domain is blocked: You must unlock it first to be able to request it

If the domain has the auto-renewal activated: You must deactivate it first to be able to request it

If the domain has already entered the process of self-renewal: This process begins 60 days before the expiration of the domain. You must wait until it finishes to be able to request it

If the domain is expired: You must recover it first to be able to request it

If there is an outstanding balance in your customer account: You must settle it first to be able to request it

If less than 60 days of domain registration: Applies to all domain extensions, except territorial (.ES)

If less than 60 days before the domain transfer: Applies only to generic domains (.CAT, .COM and .NET)

If less than 60 days ago of the change of ownership of the domain: It only applies to the generic domains (.CAT, .COM and .NET)

.ES: Remember that a .ES domain does not require an authcode to be transferred