Domains
What is a domain?
Starting with the basic concept of a domain, we could say that a domain is the name that identifies a site in the network and that indicates its membership in a certain category, in short, a domain is basically the unique name that is used to position a website, such as swhosting.com.
So far it might seem simple, but behind this nomenclature we can go a little deeper into the real meaning of a domain. We all know that a domain is the name of a website that we write in our browser to be able to view its content, but really, on servers, websites are´´´´´ NOT ´´´´´saved directly with the domain name, but web browsers actually access to each website using the IP address (Internet Protocol), such as 105.25.46.22, which identifies the server where the web is located, that is, the domain name is actually a way to facilitate the search and display of content web designed for the user in a more simplified and humane way.
In conclusion, we can highlight that, thanks to the domain of a website, it is much easier to remember than a sequence of numbers such as IP addresses. In turn, today the same server is used to host different websites, in the case of domains not existing, there could only be one website for each IP / server address. In addition to all of the above, thanks to the nomenclature by domains, the movement of web content between servers is made much more flexible because the IP can change but the domain will remain the same.
Functioning
If we focus on the specific process used to communicate with the server through our web browser when viewing the web content of a domain, we have to focus on the system that our machine uses to "translate" or transcribe the domain name that you are viewing on an IP, which is the language that the servers understand, so that your web browser communicates with the corresponding server effectively. This "translation" system is called DNS or Domain Name System (domain name system).
Different types of domains
Not all Internet domains follow the same formula. In general, when speaking of domains, we refer to the two main types that exist in top-level domains or TLDs. It is a domain that is at the top level of the Internet domain system. The most common include .com, .org, .net, and .edu.
· ccTLD: Country Code Top Level Domains Also called geolocated or territorial, they use only two letters as a domain extension and are based on international country codes, such as .es for Spain, .jp for Japan, .mx for Mexico and .co for Colombia. They are often used for companies that are creating dedicated sites for specific regions.
· gTLD: Generic Top Level Domain They are basically a TLD that does not depend on a country code. Formerly they were intended for a specific use case such as .edu, which is aimed at educational institutions. Currently, most can be used without restrictions. These domains use at least three letters in their extension, as can be seen in the following examples: .mil (military), .gov (government), .org (non-profit organizations) and .net among others.
However, we also find other types of domains:
· Second level domains They are domains that lie directly below a top-level domain. For example, British companies occasionally use .co.uk instead of .com. Other examples would be .gov.uk, which is used for government institutions and .ac.uk, for academic institutions and universities.
· Subdomains These are useful because they do not require webmasters to purchase an additional web domain to create divisions within their site. Instead, they can create a subdomain that points to a specific directory on the server. They are usually used to manage various areas of the same domain, such as www. to go to the domain website, or webmail. to manage domain email via the web.
Life of a domain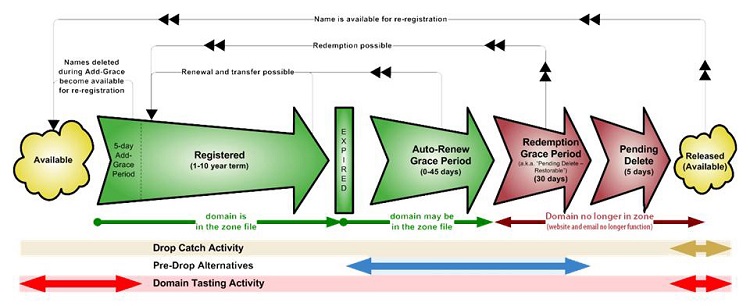 Indeed, domains have a life cycle and, depending on whether they have been registered, have expired, etc., they go through different states. Next, we will break down the most common to avoid confusion situations:
· Available or Free The domain is not currently registered by any natural person or corporation, with which you can register it so that it becomes your property.
· Registered or Busy It means that the domain is already registered. In this state you can only transfer it if it is your property. Otherwise you will not be able to do any action.
· Active Once the domain is registered, you can use it and link it, if you wish, to a hosting plan.
· Expired It is when the domain has not been renewed in time and it has expired. At this point, first of all, the domain stops working and also goes through different states:
· Renew Grace Period If it has not been renewed while it was active, in this period of time (approximately between 0 and 45 days) the domain stops working but you can proceed to its recovery for the price of the domain + € 20.
· Redemption Grace Period If it has not been renewed while it was active or in the grace period, you can still recover the domain, although the price of it will be much higher with a penalty. It is usually in this state for about 30 days.
· Pending Delete Period At this stage, the domain can no longer be renewed and, simply, it can be expected (about 5 days) for it to be available again.
It is important to know that all domain extensions are´´´´´ NOT ´´´´´subject to the same days of duration in the different states of the domain.
Regulation of domain names
There are 2 organizations that mainly share the management of all Internet domains, IP addresses, DNS servers, etc.
· ICANN ([www.icann.org] (http://www.icann.org))
· IANA ([www.iana.org] (http://www.iana.org))
These two international organizations are what accredit other companies or organizations to be accredited registrars to register domains. ICANN is the Internet Corporation for Assigned Names and Numbers. It is a non-profit organization created on September 18, 1998 to handle a number of tasks performed prior to that date by another organization, the IANA. .
In the case of the ccTLD domains for countries, IANA / ICANN delegates their management to non-profit organizations in each country or territory, and it is they who decide who can be "registering agents" of these domains.
In Spain, for example, the person in charge of managing their domains and accrediting the registration agents is domain.es, integrated into the public business entity red.es and which reports to the Ministry of Industry, Energy and Spain tourism.
· I want to know if a domain is available
You just have to indicate it in our domain search engine, and, at the moment, it will be indicated if the domain you want is free or not.
https://www.swhosting.com/es/dominios
· I want to know the domain owner
After the implementation of the new European Data Protection Regulation (GDPR), which entered into force in May 2018, the personal data of the contacts of a domain are no longer publicly displayed. Responsible domain owners can disable domain Whois hiding and would re-reveal all contact details associated with the domain - the hidden information would be made public.
Domain expiration
You can use the whois to know when a domain will expire. When you access the Whois and indicate the domain, you can check it in the "Important dates" quadrant named Registar Expiration Date.
Actions on the domain
When the domain is already in SW Hosting, you have at your disposal different tools in reference to the domain, such as hiding the whois, blocking the domain... In order to manage the domain, you must do it directly from your domain portfolio .
Here you will find all the domains that you have registered in SW Hosting. We are going to break down each of the options that the SW Panel shows you for each of the domains: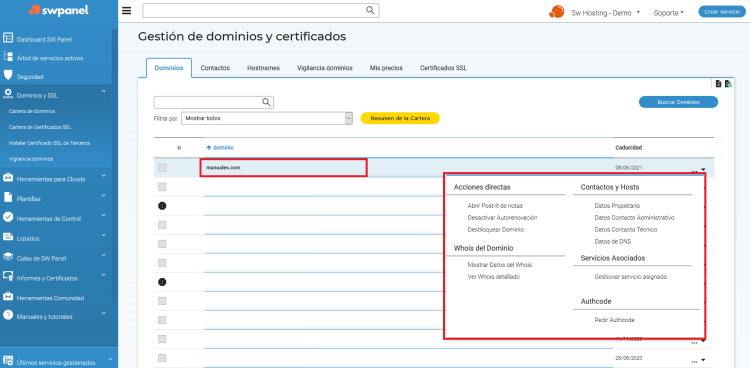 Direct Actions
· Open Post-It Notes
You can write down any comment about the selected domain. These notes work internally, so they are not displayed at the Internet level.
· Deactivate / Activate Autorenewal
This option gives you the possibility to activate or deactivate the renewal of your domain so that you do not have to worry about renewing it.
· Renew Domain
From this option you can manually renew your domain.
· Block Domain
This option is a security measure so that your domain cannot be transferred.
Domain WHOIS
· Show Whois Data
Using this button you can request that the whois data be public, that is, that data such as the administrative contact or owner will be shown publicly. By default, Whois is disabled.
· See Detailed Whois
This option will show you the data currently contained in the whois of your domain.
Contacts and Hosts
· Owner Data
You will be able to view the owner details that currently appear on the domain. If you want to make any changes, you must assign a new one through the contact management.
· Administrative Contact Data
You will be able to view the administrative contact details that currently exist in the domain. If you want to make any changes, you only have to assign a new one through contact management.
· Technical Contact Data
You will be able to view the technical contact details that currently exist in the domain. If you want to make any changes, you only have to assign a new one through the contact management.
Consult this manual for the details of the domain contact changes.
· DNS data
In this section you will have the option of assigning the DNS that you want to appear on the domain.
Associated services
· Create a service to this Domain
With this option you can create a Hosting service directly associated with a domain.
· Manage assigned service
Here you can manage any hosting service assigned to your domain.
Authcode
· Request Authcode
Here you can request the necessary code to transfer your domain. To inform you that the authcode has a life of 15 days, after these days you must request it again. Domains with a .es extension do not require authcode to transfer.
For more information, see the following manual
Other manuals of interest:
Register a domain from the SW Panel
Register a domain from the web