⚠️ These configurations for email accounts are only valid for Cloud servers with Linux Debian 10 or higher operating system versions.⚠️
⚠️ In order to use the following configuration, it is essential to have the TLS certificate activated at the service level. The manual How to Enable TLS for my email using SWPanel indicates how to proceed.⚠️
Configuring the mail account in Mail Apple iOS
The iPhone email configuration is a little different from Android, so we must pay special attention to certain details so that it does not give error.
The data that we must take into account for the configuration of the email account are the following:
Incoming mail server mail.domainexample.com
outgoing mail server mail.domainexample.com
Account name cuenta@domainexample.com
Password ********
SMTP port: 465
IMAP port: 993
POP3 port: 995
Protocol: SSL/TLS
In the phone settings, look for the "Passwords and Accounts" option: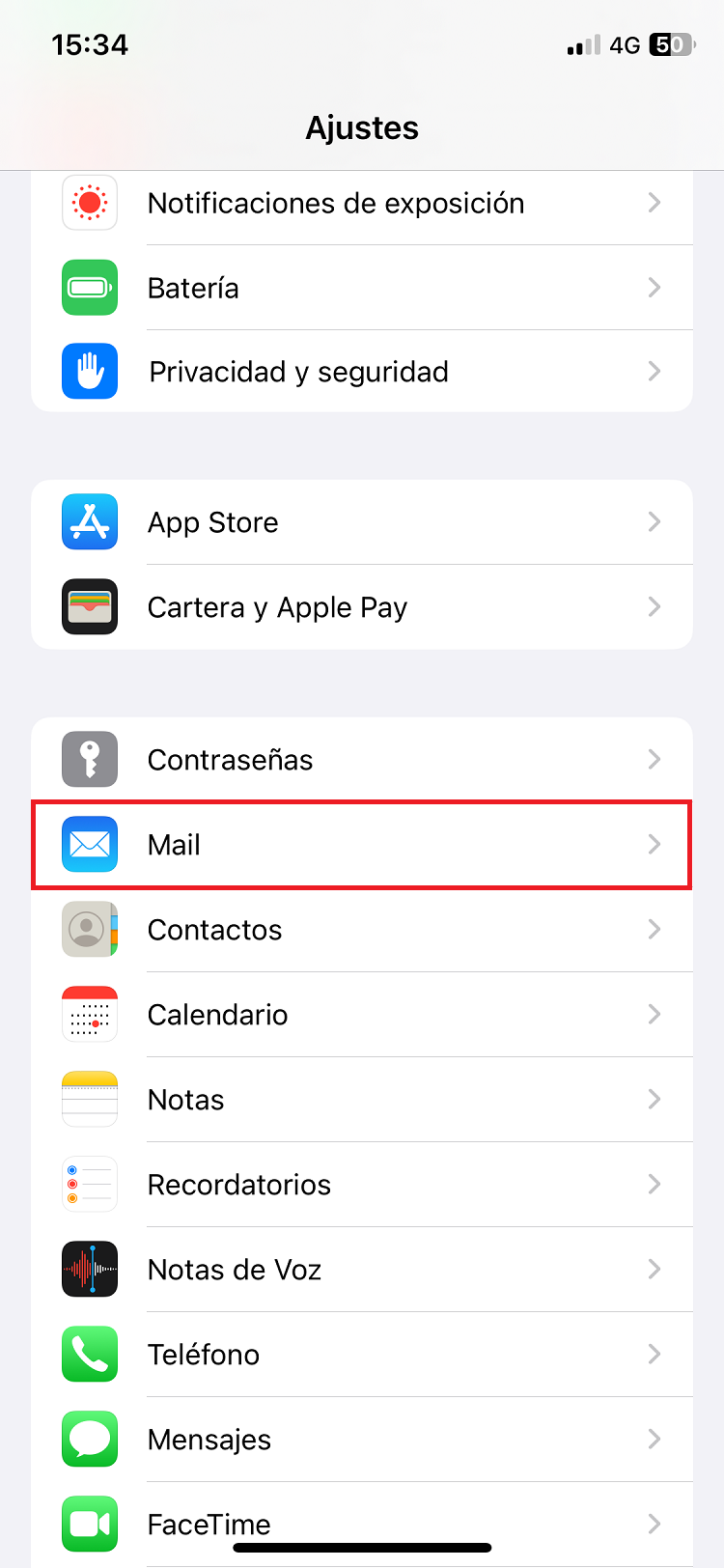 Once opened, select "Add account":
In the account selection panel, choose the "Other" option:
Select "Add email account" in the MAIL option:
The e-mail account creation wizard will open. In this step we will have to fill in the requested data.
It is very important to take into account that in the section "Name", we will not put our name, but the email account.
Once all the fields are filled in, we will click on "Next":
In this section we will be asked to indicate which incoming protocol we want to use (IMAP or POP3) and we will be asked to fill in the incoming and outgoing mail host, user name and to enter again the access password.
In user name, we will put again our account of mail to configure.
Once all the fields are filled in, click on "Next".
We remind you that from SWPanel you will not be able to see the information about the password of the email account, because in compliance with the ISO 27001, the LOPD and the RGPD, we do not store or provide personal passwords, and we do not have access to the passwords of email accounts, much less provide them.
In case of having SSL certificate for mail, we will jump an alert in which it will indicate us that the certificate is not trustworthy, due to the fact that it does not come from any "trustworthy" account, as it could be Outlook or Gmail. We will have to click "Trust" to accept the certificate.
Finally, our account settings should look like this, with everything set to "Ok":
We will select which applications we want to synchronize and click on "Save" to finalize the configuration:
Consult other manuals of interest: