Affiliate network
What is an Affiliate?
An affiliate is a commission agent; he charges a direct commission in exchange for the services and clients he provides.
How does the affiliate system work?
Very easy! When you join our affiliate program, we provide you an affiliate code and links (including the code) to our Hosting products. You will automatically receive a commission when someone purchases a new product through the link that we provide. Finally, you can withdraw your money whenever you want, once you accumulate a minimum amount, and very low, of € 20.
You can recommend us to your friends, readers, followers, community of users ... and continue earning money without any type of limit.
How much do I earn for each service release?
For each service registration made through your affiliate ID you will earn a commission. This will vary depending on the type of service contracted:
Basic Hosting -> € 20/sale
Unlimited Hosting -> € 60/sale
How do I collect my commissions?
The minimum amount to collect the commissions that you accumulate is € 20. This amount will be withdrawn by making a self-invoice by SW Hosting, and once it has been issued, the amount will be paid to the Affiliate, leaving it as a credit in your SW Panel, so you can use it to contract new services and/or domains, or renew those you already have in your portfolio.
However, if you do not want to accumulate this money in your customer account you can also request the refund by bank transfer. For this, it will be necessary to open an Administrative Ticket.
How do I register in the Affiliate Network?
If you are not yet a client of SW Hosting, you must register on our Affiliates Network through our web.
At the bottom of the page, in the section "Company", you must click on "Affiliates":

Next, you will see a page such as this: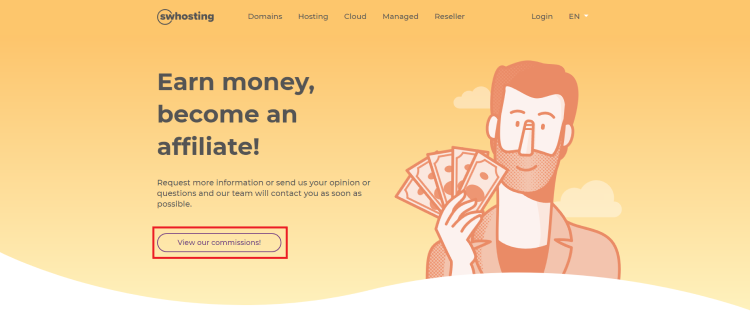 Then, click on "View our commissions!" and you will see the prices: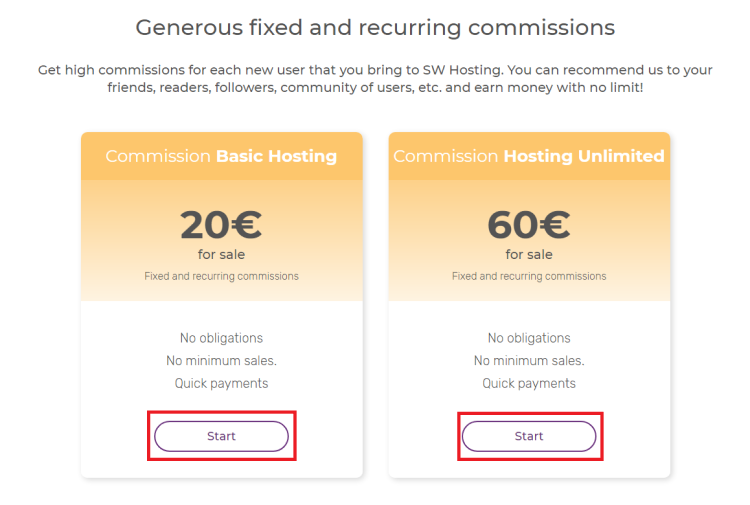 To continue, press "Start".
Then you will receive an email in your email account with the data (username and password) to access your SW Panel, the private client area of SW Hosting.
Once inside your SW Panel, you must display the upper right tab, where it indicates your name, and select the option ** Affiliate Network **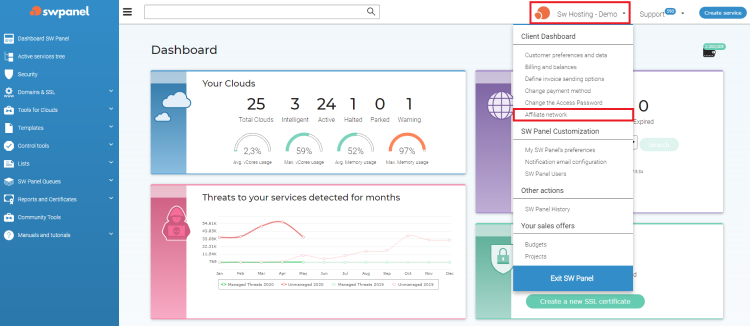 In this dashboard, you can view your SW Hosting Affiliate code, as well as the example of how to link to our website with it.
On the right side, you can also see the transactions that have been made through your affiliate code. You will follow sales and commission statistics in real time. As you collect them, they will be marked on your affiliate dashboard.

If you are already a client of SW Hosting, but do not have your account improved, the system will require you to sign up as an affiliate. Simply follow this manual to improve your customer account.
You must access your SW Panel and display the upper right tab, where it indicates your name and click on Affiliate Network

Here you have to activate your account as a member of SW Hosting and accept this activation by entering the requested information. Then press the green "Activate as Affiliate" button.

To consult the information of your affiliate account (your code and your operations) you must return to the Affiliate Network tab
Notifications and alerts
You will receive an email every time you generate a sale with your code, so you can know in real time the movements that are made through your affiliate ID.