To register a domain from the SW Hosting website, you must access the URL www.swhosting.com.
Once you have accessed, you must go to the section "Domains".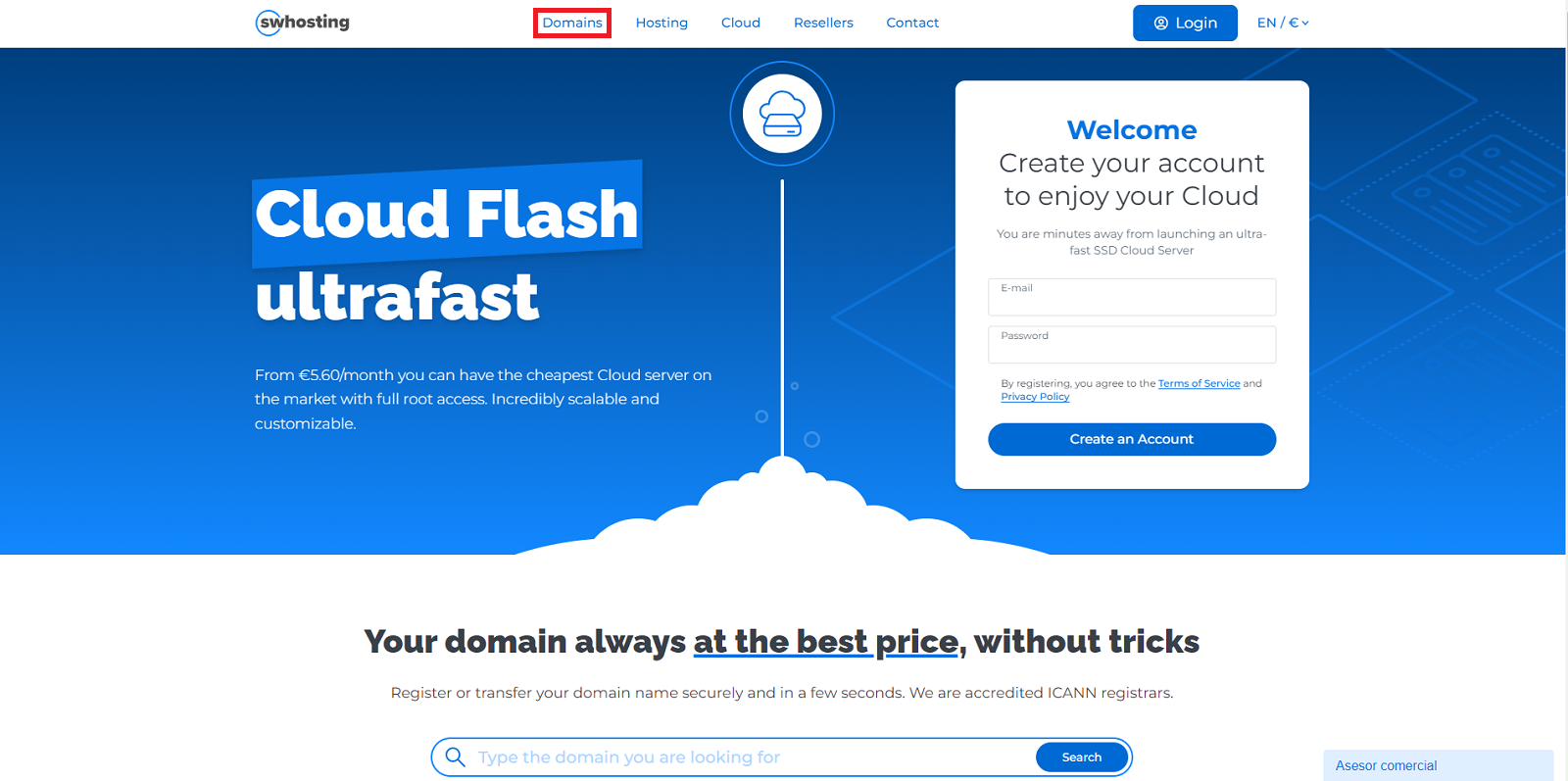 Enter the domain you want to register, choose the extension you want in the box on the right and click on "Search":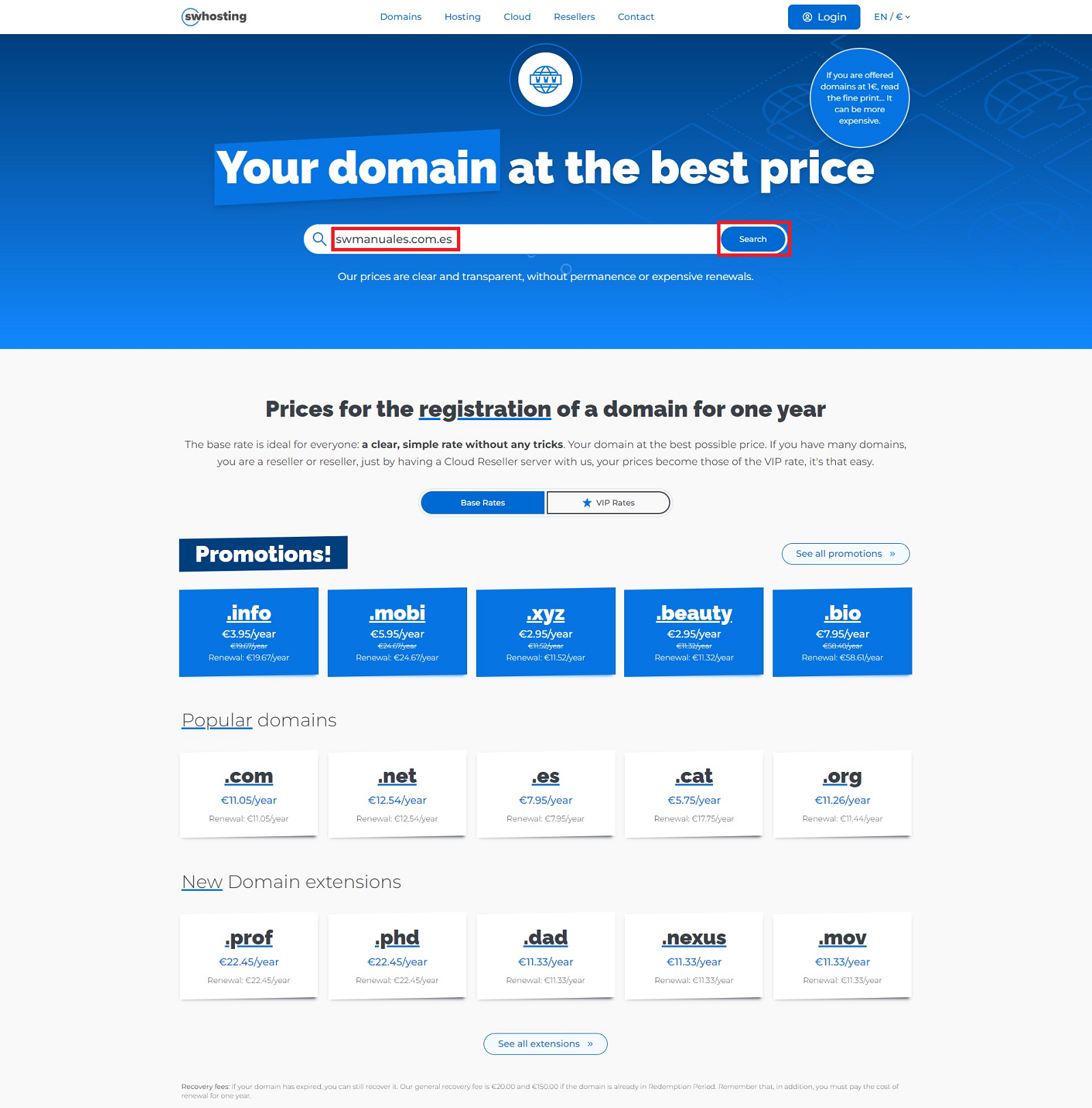 Then, the result will appear on the screen with the status of "Free" (in case you are not registered) and its price without VAT. Click on "Register":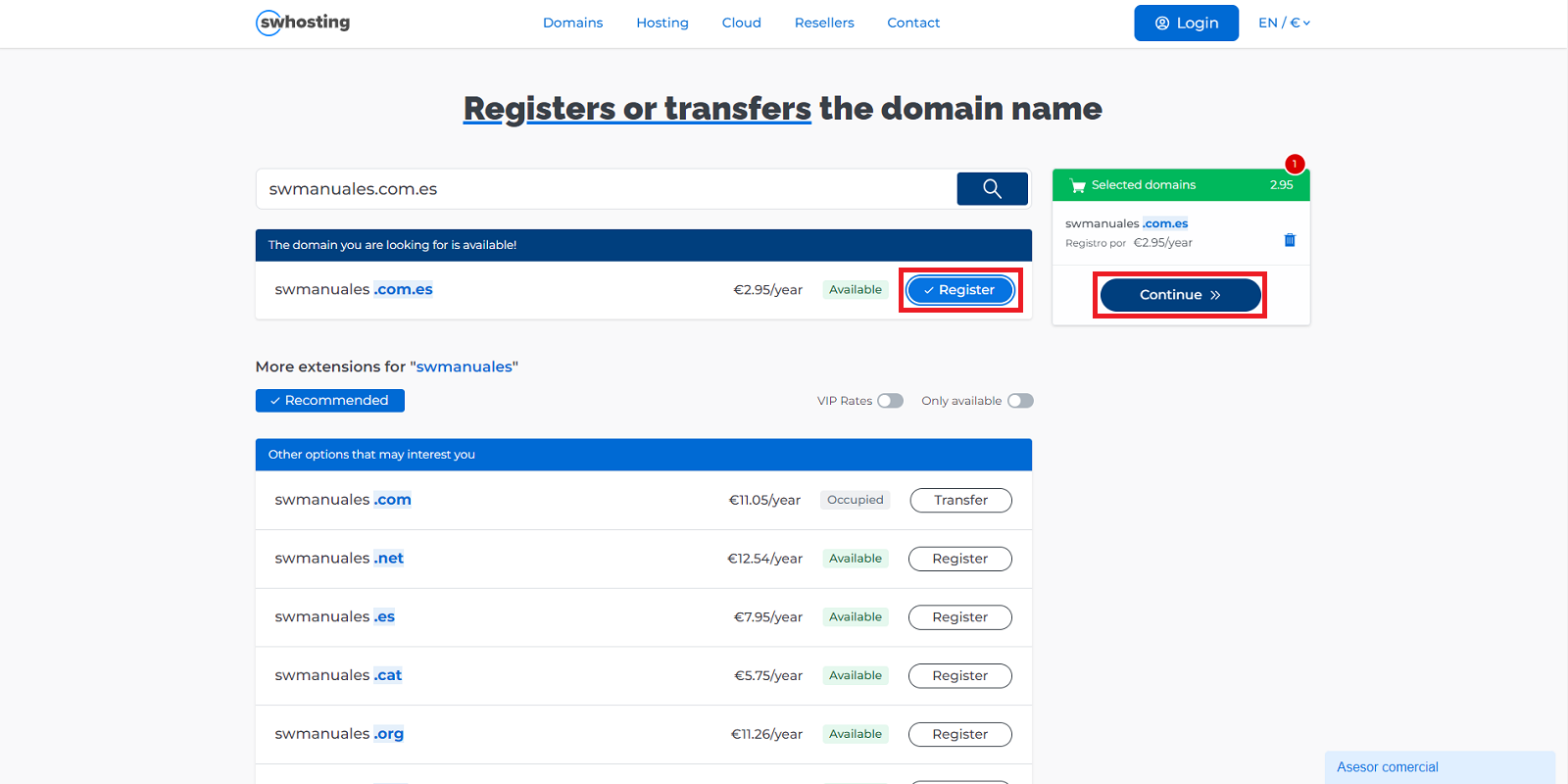 Now you need to enter a valid email address that you check regularly, as it will be used to create your customer account, where you will receive important notifications about your domains or contracted services. If you already have an account with SWHosting, click on "Login". Click on "Create account":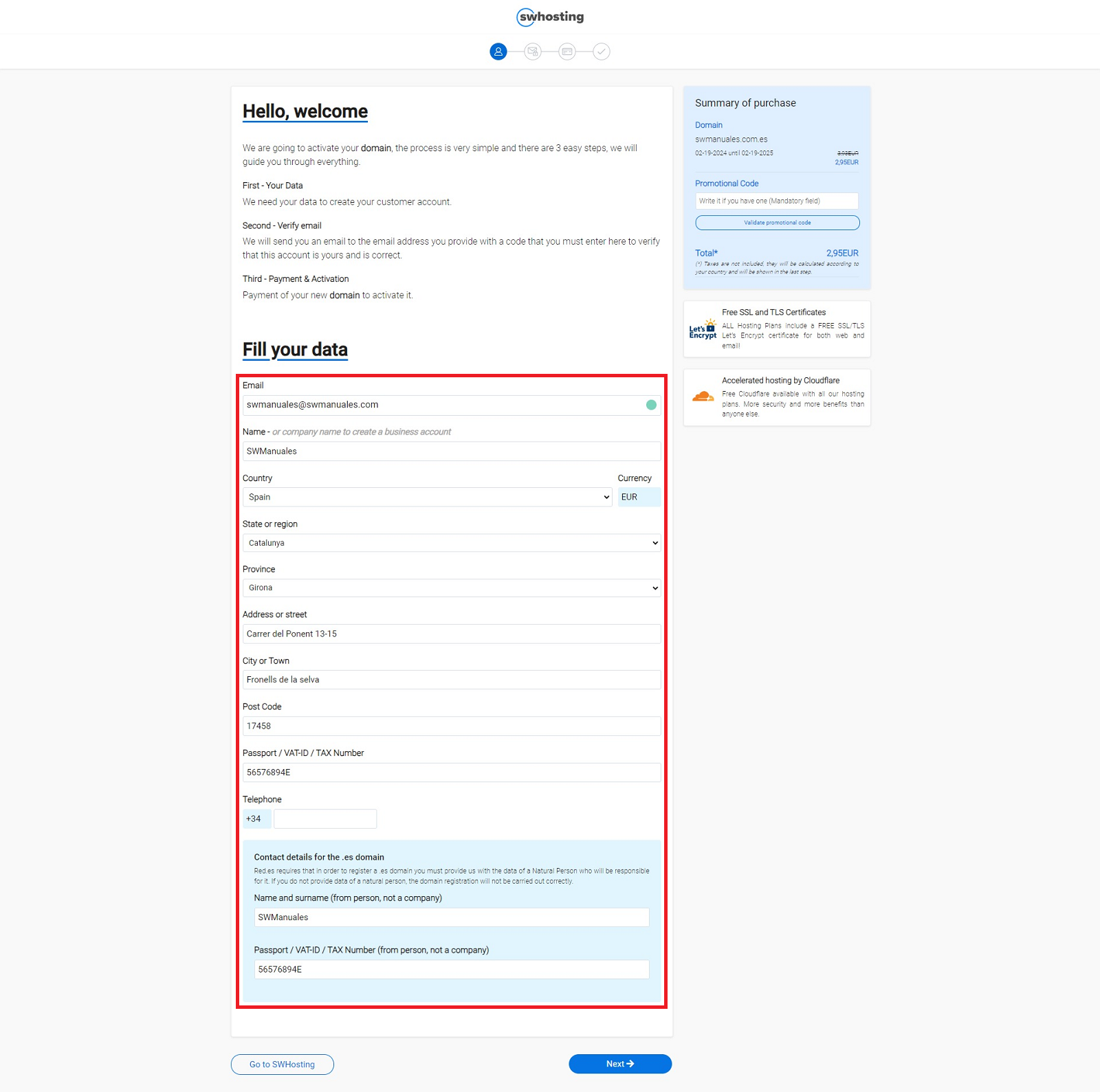 In the next screen you will be able to deactivate the auto-renewal of your domain (by default it is activated), buy other free extensions with your domain name or hire a hosting service to link to your domain. You must also add the requested information.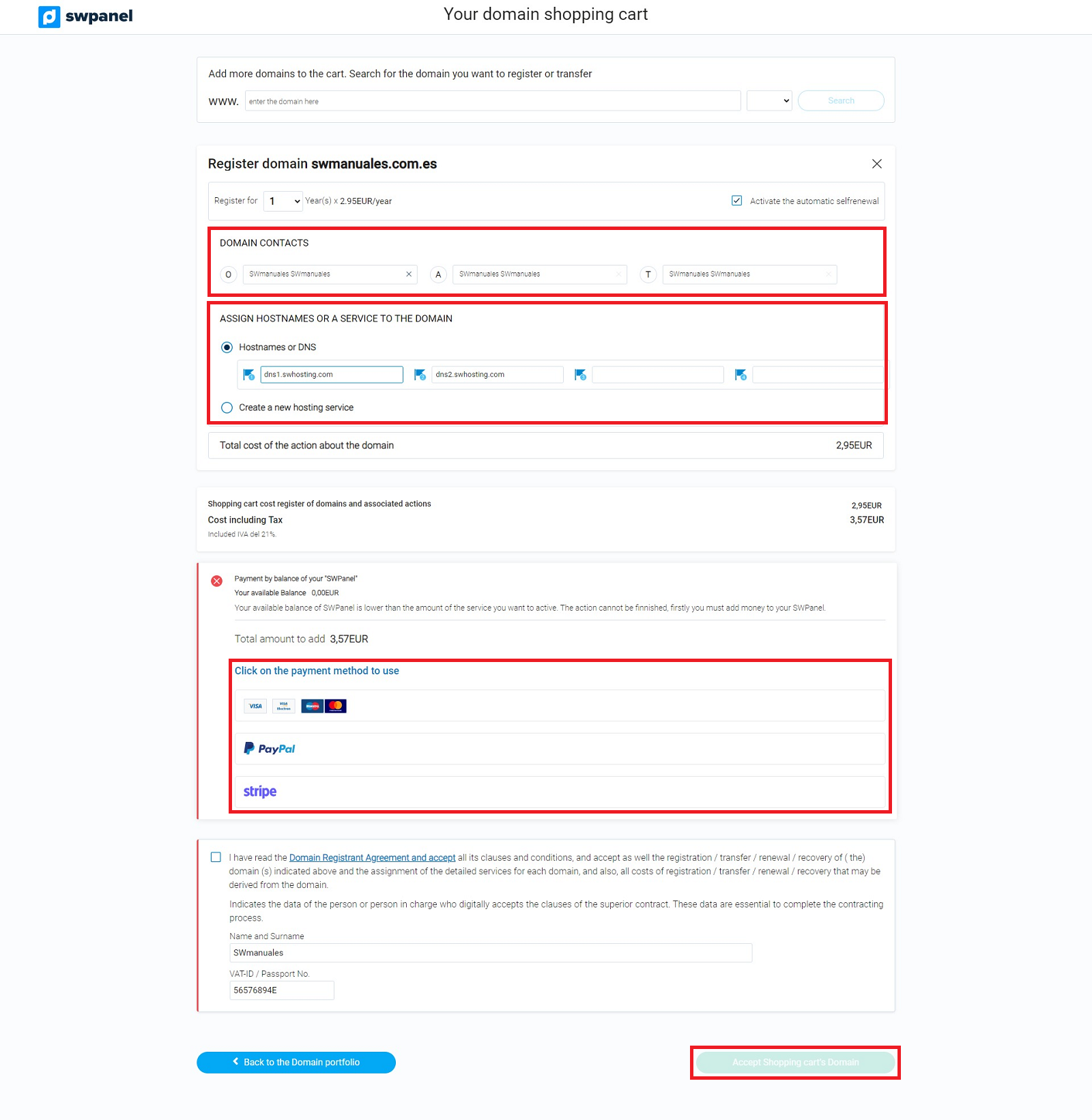 If the domain you want to register is an .ES domain, you will have to fill in some additional data, since it is essential that the administrative and technical contact for a .ES domain be individual and not a company.
Once you have filled in the fields, you will have to enter your credit card information to formalize the contract, or choose the PayPal payment method.
Remember that the credit charge using PayPal has a commission applied by PayPal. The credit that will be added to your SWPanel will be the result of the requested charge minus the amount of commission charged by PayPal.
If you have a promotional code, it is time to enter it and validate it. Otherwise click directly on "Order now".
The first order must ALWAYS be made by credit card. Once you are already a customer, there are other types of payment methods.
You will receive an email with the welcome data to access your SWPanel, your private customer area and start managing your domains and/or services.
When the domain has been registered you will receive an email, at the address indicated above, notifying you of the domain status.
Also, according to the rules of the international organization for domains ICANN and as explained in the Whois Accuracy manual, you will receive another email with a link to verify your email address.
It is very important that you follow this email and validate your email address within the established period of time (15 days), otherwise the domain will be deactivated until it is verified.